PROMOTE YOUR BUSINESS BY SUPPORTING THE HAVRE DE GRACE DECOY MUSEUM & HARFORD COUNTY TOURISM
The Decoy Museum's new Business Memberships are coupled with advertising in The Canvasback.
Business Members Receive:
Advertising Space (four quarterly issues)
A Subscription to The Canvasback
Updates on Events & Attractions
Special Discounts for Facility Rentals
Complementary Admission Tickets to the Decoy Museum
Each ticket entitles the holder to a 10% discount in the Museum Gift Shop – give them to your employees and business associates.
Call 410-939-3739 to become a Business member!
SUPPORTER
$175.00
Business Card Ad
5 Admission Tickets
DONOR
$325.00
Quarter-Page Ad
10 Admission Tickets
PATRON
$625.00
Half-Page Ad
20 Admission Tickets
BENEFACTOR
$1200.00
Full-Page Ad
40 Admission Tickets
The membership rates quoted are for grayscale ads. For color ads (Patron and Benefactor only), please add a 40% surcharge. Graphic design services are available for an additional charge.
Please refer to the Advertising Contract and Requirements for Advertisers for details.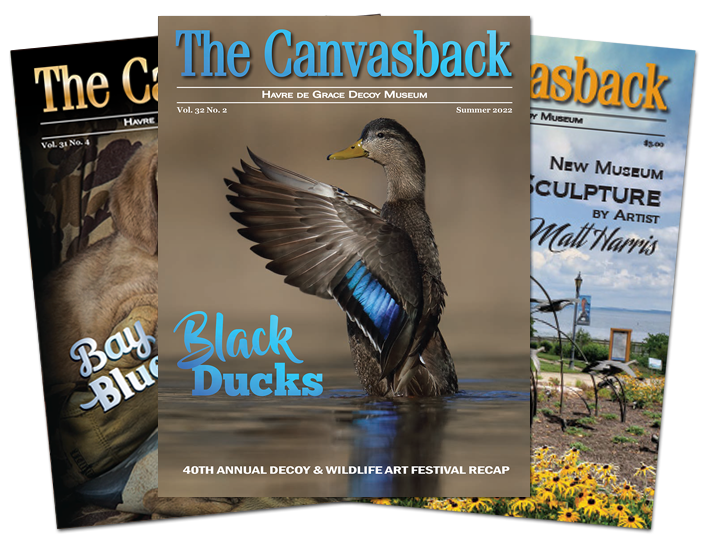 Always have the latest issue of The Canvasback in your break room, waiting room, or reception area.
Non-advertisers can also support the Decoy Museum as a Subscriber.
GET THE CANVASBACK TODAY!
Business subscribers can receive four quarterly issues for $25.  Please call us to subscribe for your break room, waiting room, or reception area at 410-939-3739.