HAVRE DE GRACE DECOY MUSEUM MEMBERSHIP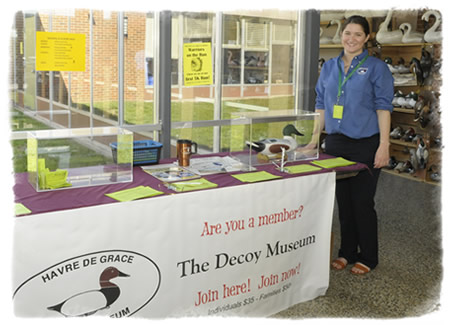 The Decoy Museum's important work can only be accomplished with the support of loyal members and volunteers who spread the word and help us fulfill our mission. Our members and volunteers constitute a very close-knit and loyal community, and we would love to have you to be a part of our efforts!  Membership not only provides financial support for museum exhibits and programming, but it also offers individuals special benefits and opportunities to increase their personal involvement in the museum through events.
JOIN HERE!  JOIN NOW!
The following five membership categories are available to both new members and current members who wish to upgrade.  Membership fees are limited to US residents; surcharges apply to non-US members. All members receive a membership card, free admission year round, a subscription to The Canvasback magazine, advance invitations to special events, and 10% discount off purchases in the Museum Gift Shop.
Questions?
Email us at membership@decoymuseum.com
JOIN THE DECOY MUSEUM ONLINE
Click the BECOME A MEMBER ONLINE button below to join the Havre de Grace Decoy Museum with your credit card online using our secure e-commerce storefront.
Click the BECOME A LIFE MEMBER ONLINE button below to become a lifetime member of the Havre de Grace Decoy Museum.
Click Here for information on business membership opportunities.
JOIN THE DECOY MUSEUM BY MAIL
MEMBERSHIP QUESTIONS
DECOY MUSEUM MEMBERSHIP RATES
Junior/Student Membership ($15/year): Under 21 or full-time student.
Individual Membership ($50/year): One adult 21 or over.
Family Membership ($65/year): Up to two adults and minor children (or full-time students) residing at the same address.
Life Membership ($2,000): Lifetime Family privileges for member and surviving spouse, name on Life Member plaque, and Life Member pin.
NARM-Family Membership ($100/year): Family Member benefits at the Decoy Museum, plus reciprocal privileges at nearly 800 additional museums through the North American Reciprocal Museum Association.  Associate Membership includes two adult membership cards with NARM decals.  Policies of individual NARM museums may vary (see NARMAssociation.org or call for details)